Regular price
Sale price
$79.95 CAD
Unit price
per
Sale
Sold out
Volume Discounts

Buy 2, get 6% off
Buy 3, get 8% off
Buy 4, get 10% off
Free Delivery Included

Canada

・Free Shipping: 2-8 business days
・Xpresspost: 2-3 business days
・Priority: 1-2 business days

UPS does not deliver to PO Boxes.
・UPS Express: 1-2 business days

United States

・Free Shipping: 3-10 business days
・Expedited: 4-8 business days
・Xpresspost 2-4 business days
Same Day Preparation

✓ 07:00AM Received
Orders are received by 07:00 Eastern Time.

✓ 07:30AM Processing
Orders are processed by 07:30 Eastern Time.

✓ 08:30AM Verify Email
We may require additional information or correct a mistake.

✓ 09:00AM Order Preparation
By 09:00 Eastern Time, we start preparing orders.

✓ 12:00PM Quality Control
By 12:00pm, we've inspected orders a second time.

✓ 12:30PM Shipping Label(s)
The shipping link is emailed before 12:30.

✓ 16:00PM Shipped
By 16:00, carriers have picked up our orders.
What is PVP-Iodine 30/06?
PVP-Iodine (CAS # 25655-41-8) is reddish to a brown free-flowing highly soluble fine powder. Povidone-Iodine has various names, such as PVP-Iodine, Iodopovidone or PVP-I.
It is soluble in water, ethanol, propanol and insoluble in acetone, chloroform, methylene chloride, heptane and hexane.
What applications PVP-Iodine 30/06 used?
PVP-Iodine is the ingredient selected by laboratories and product developers for prophylaxes, i.e. skin, mucous membrane antisepsis, surgical and hygienic hand disinfection. Also a treatment for burns, decubitus and varicose ulcers, dermatomycosis, pyoderma and acne, and vaginitis.
PVP-Iodine 30/06 is also commonly the main ingredient used in disinfectants, topical formulations such as solutions, ointments, creams, gargle solutions and nasal sprays.
What are the specifications?
Our PVP-Iodine 30/06 is certified by the manufacturer USP grade.
Where is Ingredient Depot's PVP-Iodine 30/06 manufactured?
Our PVP-Iodine 30/06 is manufactured in the USA.
View full details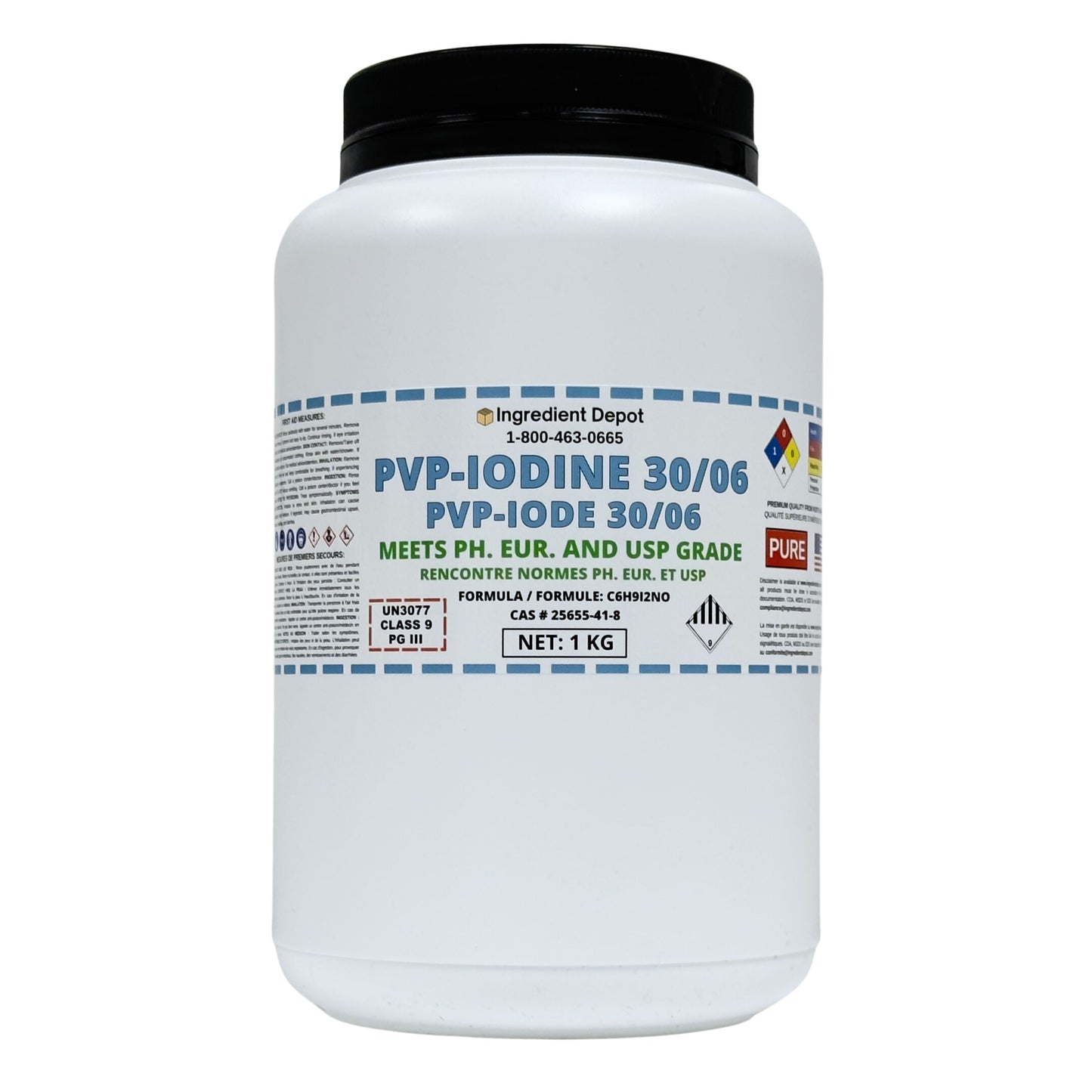 Free Shipping and Fast Order Preparation
New or returning customers, we're ready to fulfill your order!