Regular price
$249.95 CAD
Regular price
Sale price
$249.95 CAD
Unit price
per
Sale
Sold out
Volume Discounts

Buy 2, get 3% off
Buy 3, get 5% off
Buy 4, get 7% off
Free Delivery Included

Canada

・Free Shipping: 2-8 business days
・Xpresspost: 2-3 business days
・Priority: 1-2 business days

UPS does not deliver to PO Boxes.
・UPS Express: 1-2 business days

United States

・Free Shipping: 3-10 business days
・Expedited: 4-8 business days
・Xpresspost 2-4 business days
Same Day Preparation

✓ 07:00AM Received
Orders are received by 07:00 Eastern Time.

✓ 07:30AM Processing
Orders are processed by 07:30 Eastern Time.

✓ 08:30AM Verify Email
We may require additional information or correct a mistake.

✓ 09:00AM Order Preparation
By 09:00 Eastern Time, we start preparing orders.

✓ 12:00PM Quality Control
By 12:00pm, we've inspected orders a second time.

✓ 12:30PM Shipping Label(s)
The shipping link is emailed before 12:30.

✓ 16:00PM Shipped
By 16:00, carriers have picked up our orders.
What is MCC Microcrystalline Cellulose?
Microcrystalline cellulose, discovered in the mid-20th century, is a purified, partially depolymerized cellulose derived from wood pulp. Its wide use in pharmaceuticals, food, and cosmetics has become prevalent due to its biocompatibility and non-toxicity. Considered by the industry as a versatile and safe excipient, ideal for use in oral solid dosage forms, dietary supplements, and food products.
How is MCC Microcrystalline Cellulose produced?
First, purified cellulose is hydrolyzed under controlled conditions to remove amorphous regions. Then, the resulting microcrystalline cellulose is purified, dried, and milled to produce the final product. The result is an odorless, and tasteless powder, with a specific crystalline structure that delivers unique benefits in formulation.
Global sales figures and markets
The global sales for microcrystalline cellulose in 2022 was valued at over 1.1 billion USD, and it's expected to exceed 2 billion USD by 2031. In the North American market, plant-based ingredients is expected to continue driving the growth of the personal care, cosmetics, and pharmaceutical industries. Europe currently dominates the global market and is projected to maintain its growth. The Asia-Pacific region is experiencing increased demand due to the advent of flexible applications such as 3D printing.
What is the difference between MCC 101 and MCC 102?
MCC 101, is a finer grade of Microcrystalline Cellulose. With an average particle size of about 50 Microns and a bulk density ranging from 0.28-0.34 g/cc, it's well-suited for processes like wet granulation, roller compaction, and spheronisation.
MCC 102, on the other hand, is a medium particle size MCC Microcrystalline Cellulose, most popular due to its versatility. It has an average particle size of 100 Microns, and it's especially suitable for directly compressible actives due to its larger particle size, providing good flow and high compressibility.
What are the uses of MCC 101?
Filler and binder in pharmaceutical tablets and capsules
Disintegrant in pharmaceutical tablets
Texturizer and anti-caking agent in food production
Binder in dietary supplement tablets and capsules
What is the grade and country of manufacture?
MCC Microcrystalline Cellulose 101 meets the manufacturer's USP-NF, BP, Ph.Eur grades, adhering to quality standards of multiple pharmaceutical regulatory bodies. This product is manufactured in China.
View full details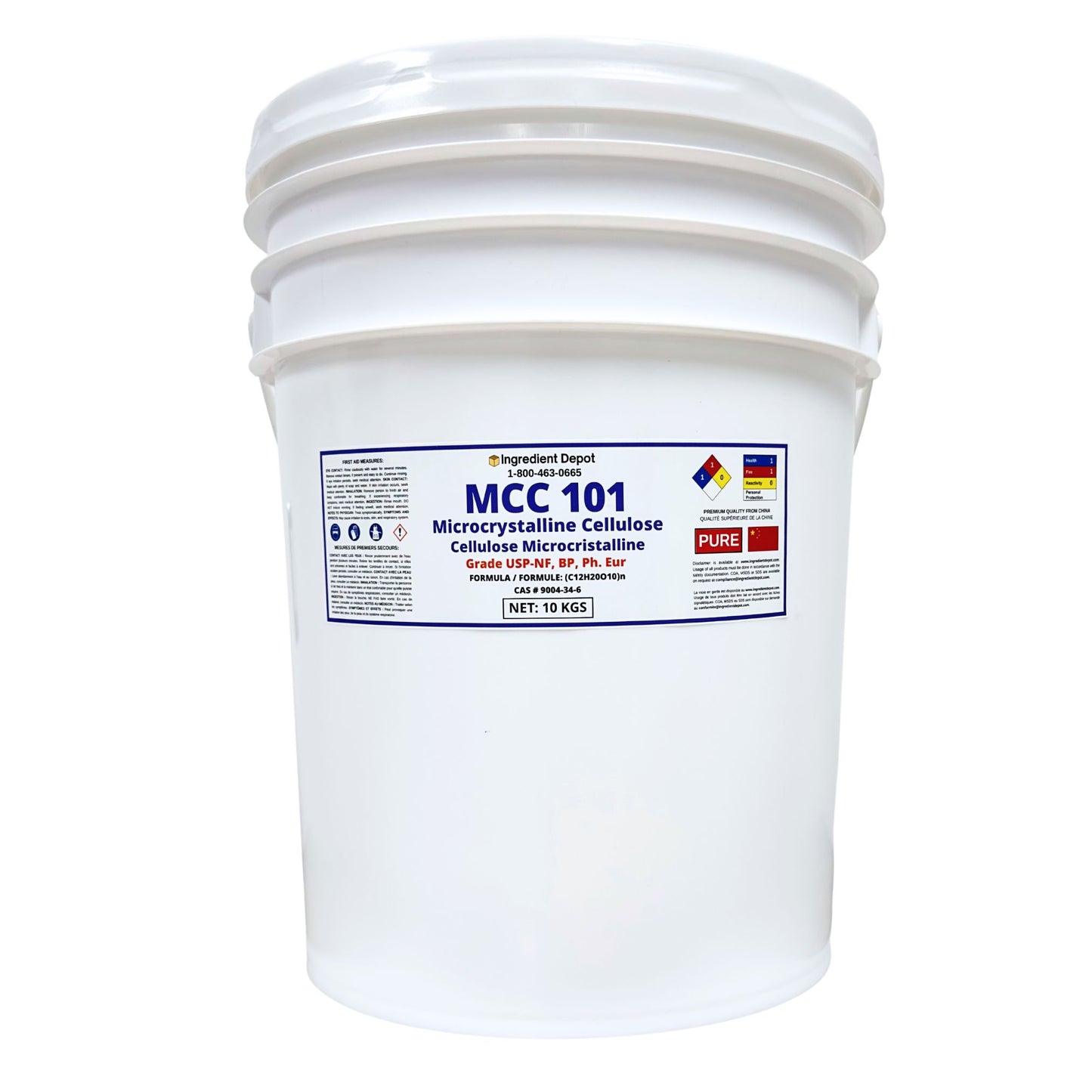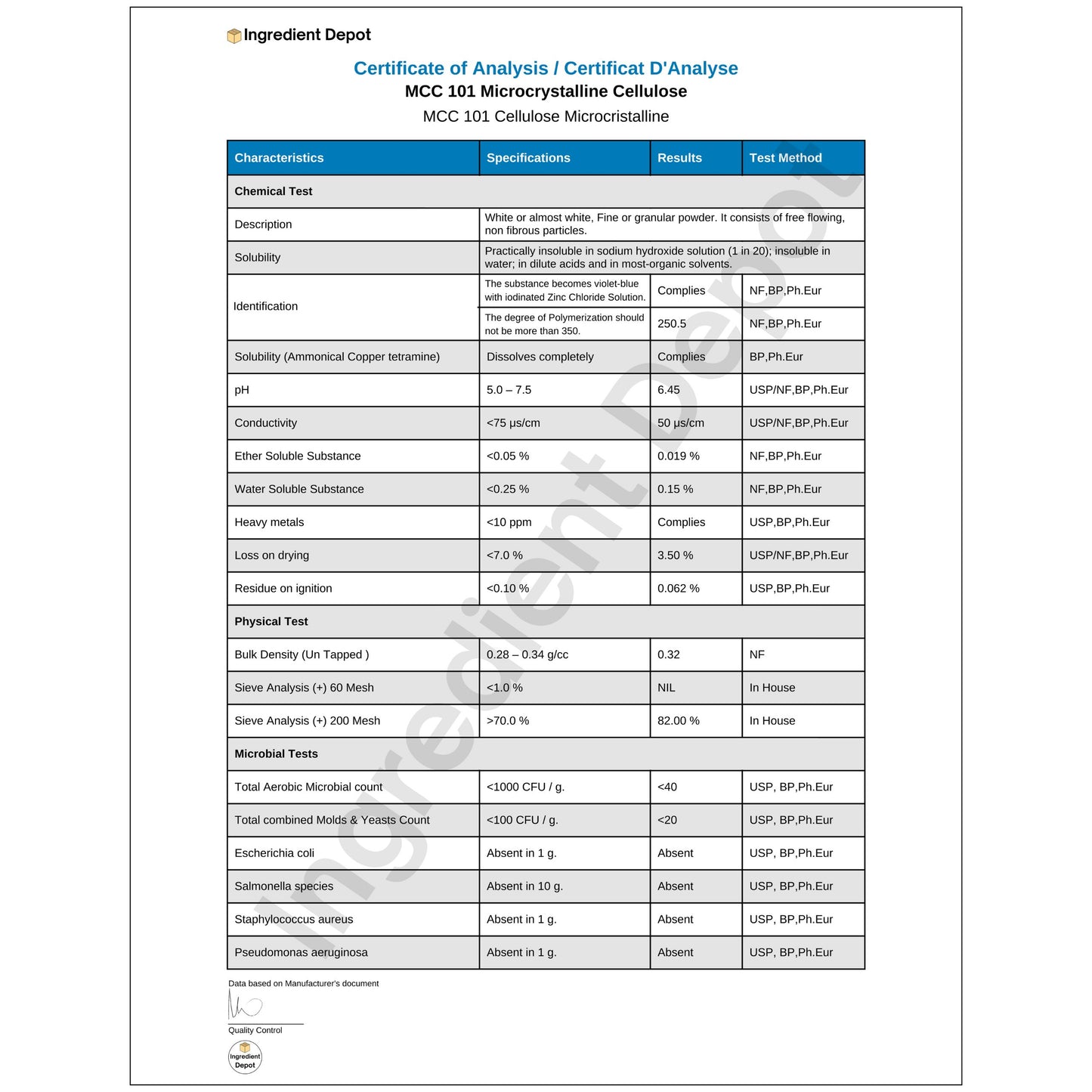 Free Shipping and Fast Order Preparation
New or returning customers, we're ready to fulfill your order!